Do you know how to cook fava beans? Today, you will learn how to remove the beans from their pod, how to sheIl them and how to cook a delicious vegetarian meal with them. This shelled fava beans recipe is not only delicious but extremely nutritious. 
Spring means several vegetarian dishes in Turkish cuisine called olive oil dishes. One of the most popular ones is whole fresh fava beans (with their pods). Towards the end of the season, fava beans inside the pod get larger. Then we remove the beans from pod and cook this amazing side dish. If you are into vegetarian spring recipes like this, check out our artichoke bottoms and green beans recipe too!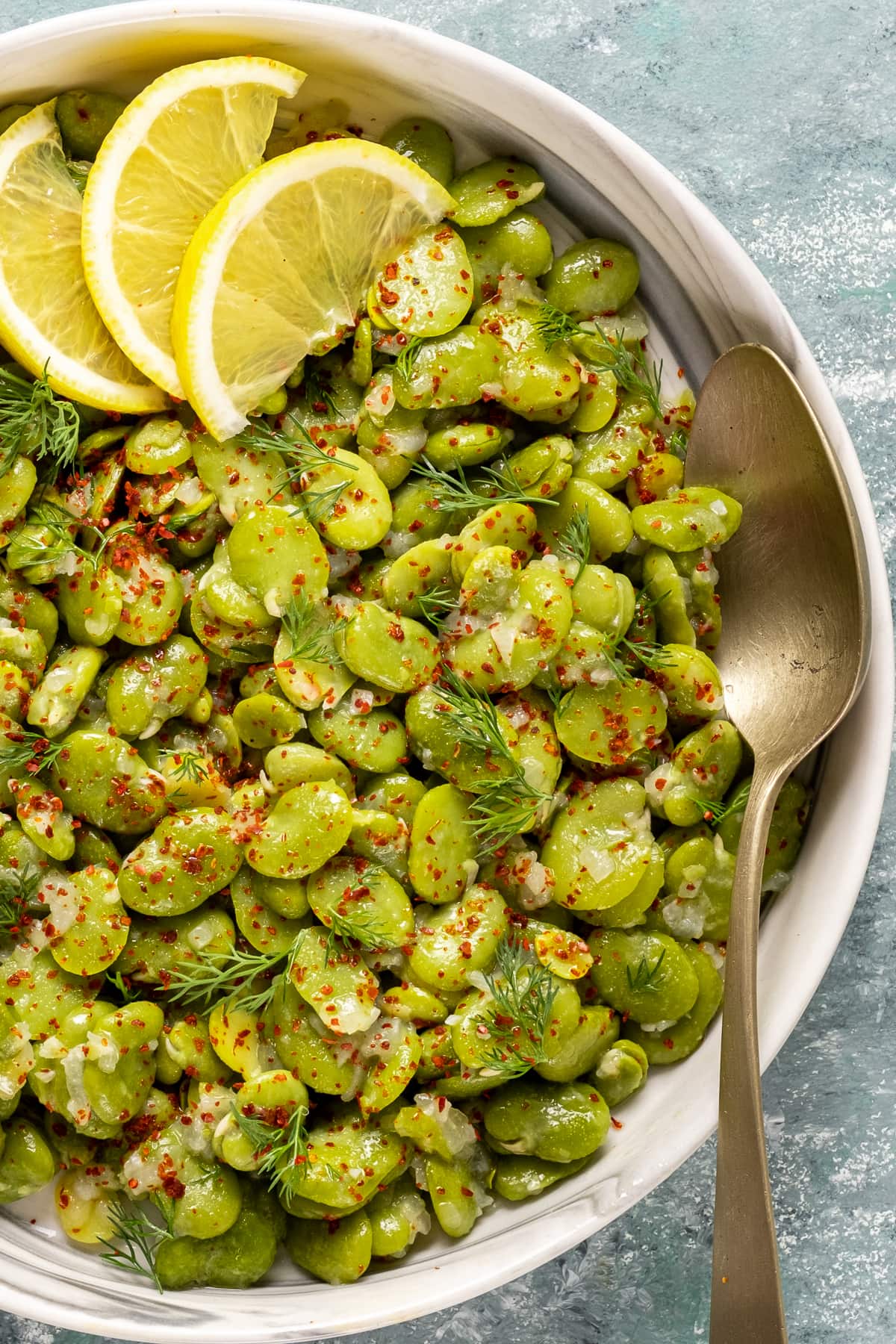 Jump to:
What Are Fava Beans?
Fava beans aka broad beans, faba beans or bakla (in Turkish) are one of the popular foods in Turkey in spring. There are three methods of cooking fava beans in Turkish cuisine. We cook a vegetarian olive oil dish with young and fresh fava bean pods in the early spring, make a side dish with the shelled fava beans towards the end of the season and prepare a hummus-like dip with dried fava beans all year long. In this post, you will learn the tips for cooking fresh fava beans without their pods.
The pod itself is usually bright green, has a bumpy surface and a soft yet crunchy texture. These pods can be anywhere between 6-12 inches (15-30cm) long. Inside the pod, you will find the bright green beans enclosed in a white thin shell.  
At the beginning of spring, the broad beans are young and fresh. You can use them with their pods. As the season gets close to end, it's better to remove the beans inside because their pod gets inedible(bitter and tough). Also you had better shell those beans before cooking for the best result.
The younger and smaller the beans are, the paler green they are. The larger they become, the brighter their color is and the bumpier the skin gets. For this recipe, it is best to choose large beans as it is easier to remove them from the pod and shell.
How to Shell (Double Shelling)
Shelling broad beans is very easy but takes time, so you need to be patient. That being said, the whole process is worth the trouble as the beans are packed with deliciously sweet and earthy flavors.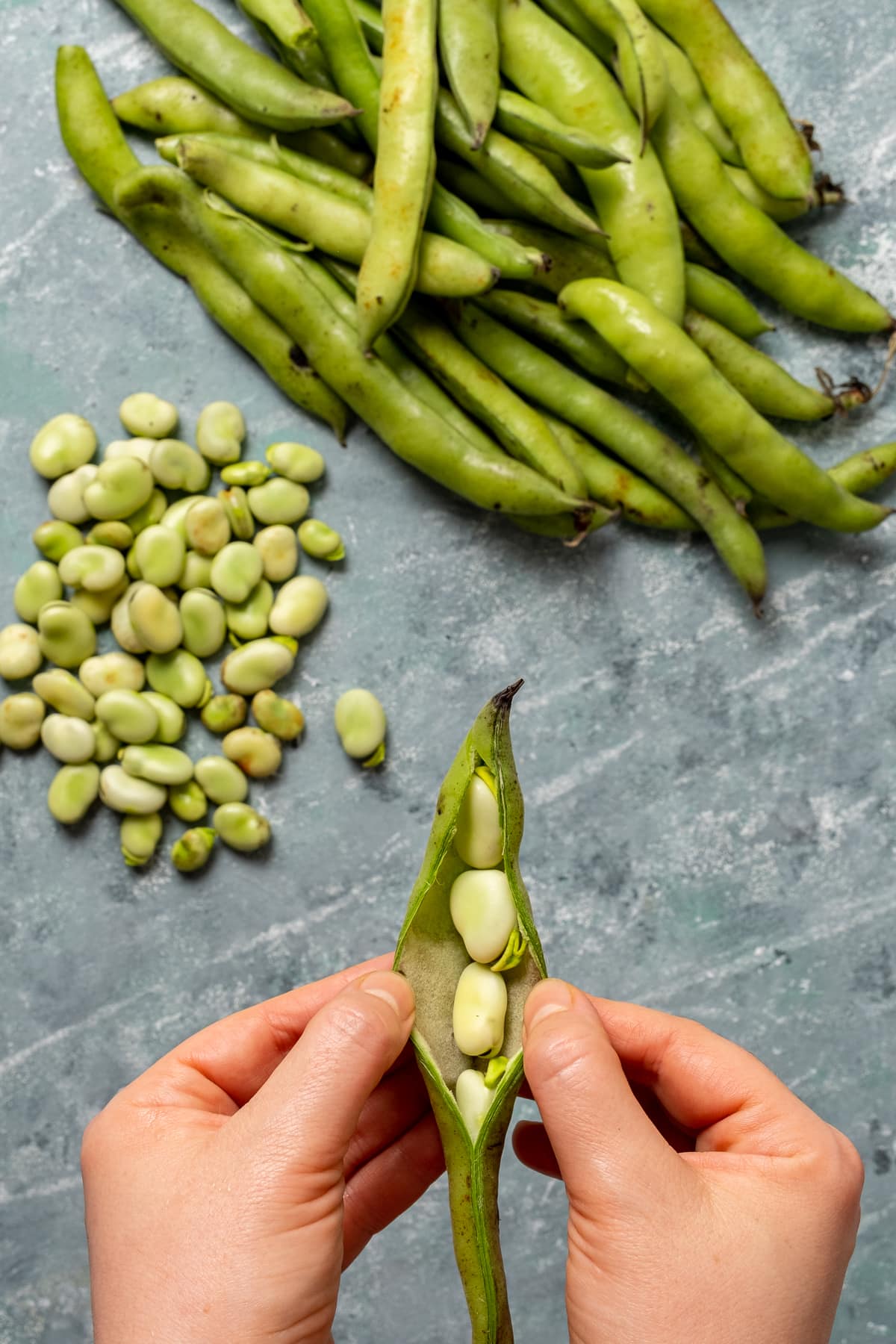 First, start by removing the beans from their pods by slicing open one or both sides. It is way easier to remove them when the pods are mature and large. 
After all of the beans are removed, make a small slit on the side of each bean. This is an essential step that will make peeling the tough skin much easier.
Then blanch the beans. We use a method mostly known by traditional moms. Fill a saucepan or a bowl with boiling hot water. Add in salt and mix. Throw the beans with a slit into this hot salty water (not over the heat). Let them soak for 10 minutes.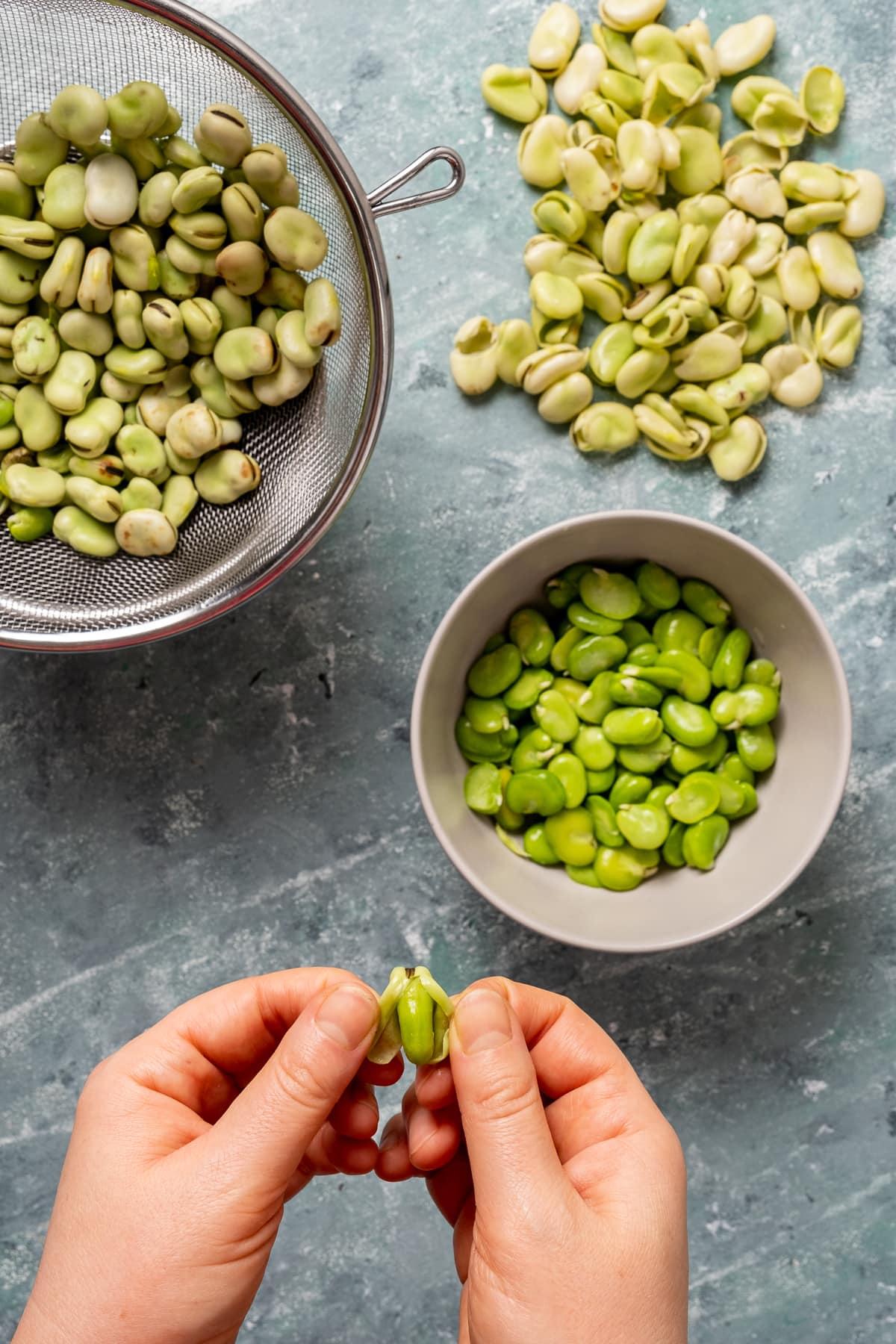 Now you can easily shell the beans. Take a bean between your fingers and gently squeeze the bean to remove it from the tough skin. You will see how easy this step is thanks to the simple slitting and blanching method explained above.
Uses
Shelled fava beans are an extremely versatile ingredient. You can use them in salads or soups. A delicious spring salad idea is fresh asparagus, cucumber, and fava bean salad with a lemon and herb dressing.
Alternatively, you can use it on an open-faced sandwich, serve it alongside salmon, in a risotto, or even as part of cheesy vegetable pasta. One of our favorite ways to use fava beans is in our bulgur pilaf. But you can use it in rice pilaf too.
How to Store
Whole fava beans (unshelled ones that are still inside their pods) can be placed in a plastic or paper bag(better) and kept in the refrigerator for about 10 days. If they are washed, this time won't be that long. 
Raw fava beans (once removed from their pods) will only last 3-4 days in the refrigerator if stored properly. Make sure you place the shelled beans in an airtight container inside the fridge.
And you can store them in ziplock bags in the freezer for several months. Before putting them in the freezer, you had better blanch them, peel their skin, let them cool completely.
How to Cook An Easy Side Dish
Cooking fava beans is extremely easy to do and worth the effort. This fava bean recipe uses simple fragrant ingredients to help elevate the natural flavor of the broad beans.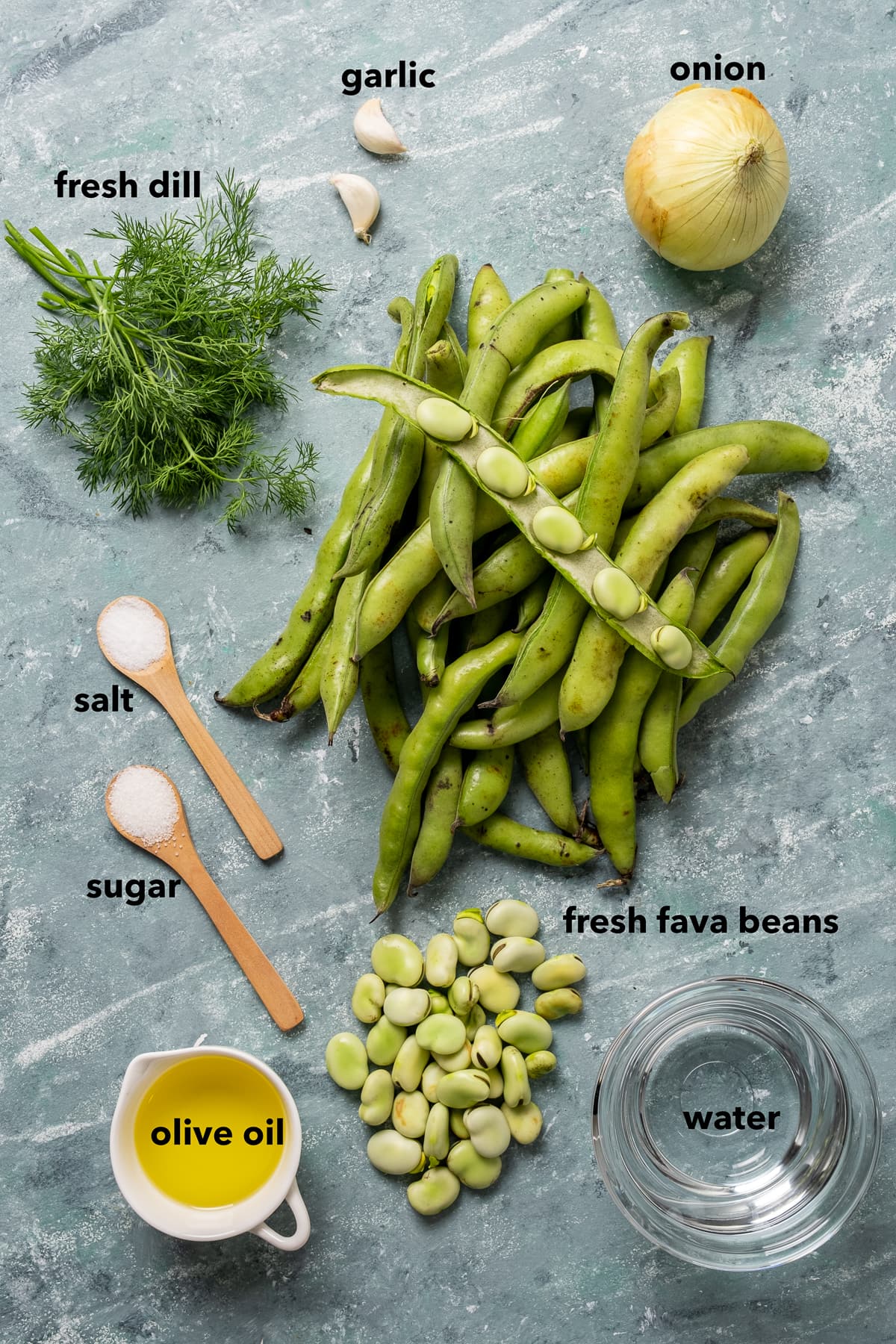 Besides the double-shelled fava beans, you only need the following ingredients: onion, garlic, salt, sugar, fresh dill and a generous amount of olive oil. We love to serve them with lemon and red pepper flakes. These are optional but highly recommended!
First, prepare the beans. Start by removing all of the beans from their pods. Next, make a small slit on each bean. Fill a saucepan with boiling water and salt. Stir to dissolve all the salt before adding the beans. Allow them to soak in this hot salty water for about 10 minutes. This will soften the skin and make it easier to remove. After 10 minutes, gently peel the shells. (Please look at the step by step pictures above).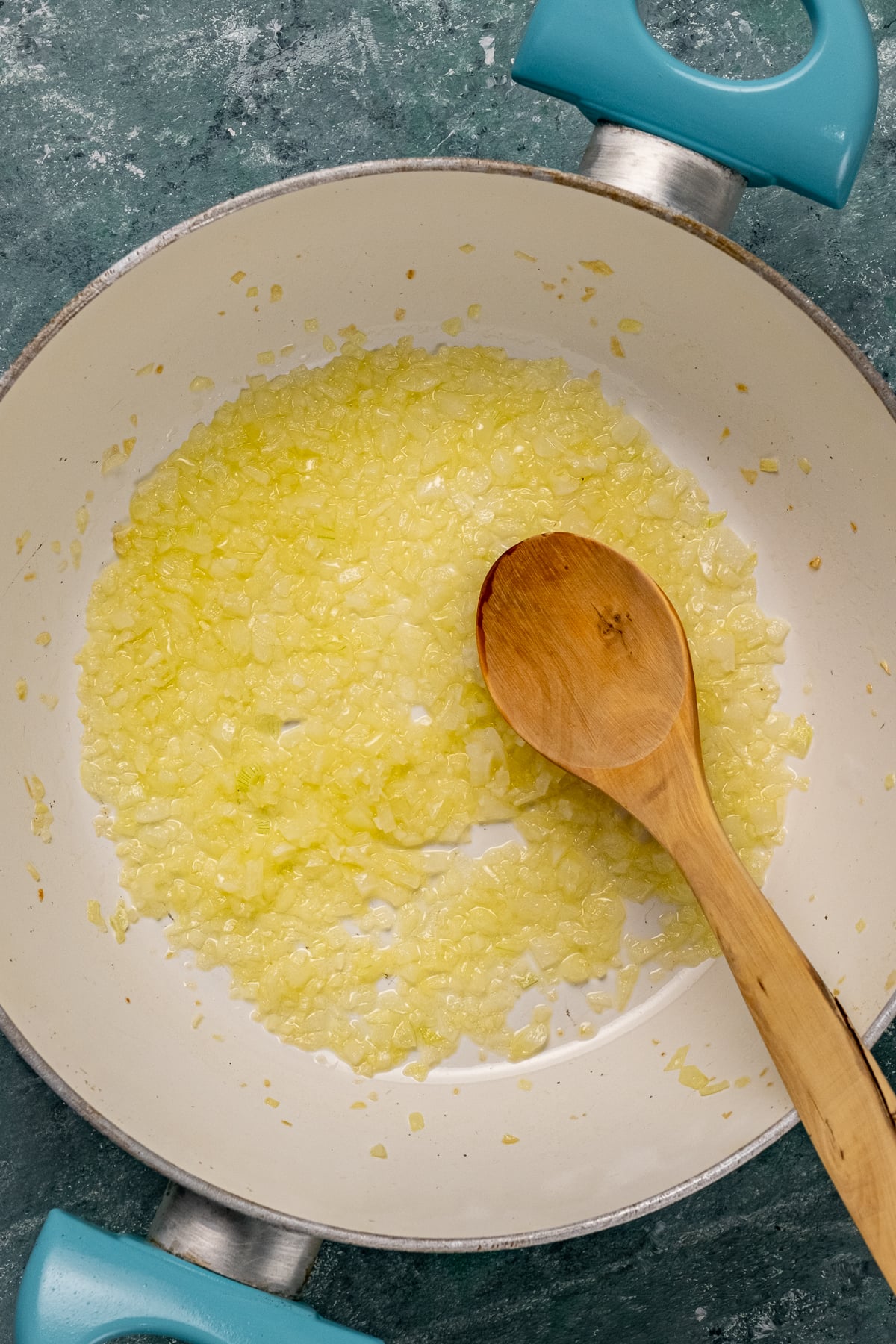 Second, cook the beans. Heat olive oil in a pan and sauté the onions and garlic over medium heat for about 5 minutes or until the onions become translucent.
Add the shelled fava beans and cook them for about 5 minutes. Add in the salt, sugar, and water, and continue cooking the beans for about 20 minutes.
Third, cool and garnish the beans. Remove the cooked fava beans from the heat and allow them to cool slightly. Add some freshly chopped dill and stir it in well. Serve with red pepper flakes, fresh dill, and some refreshing lemon slices.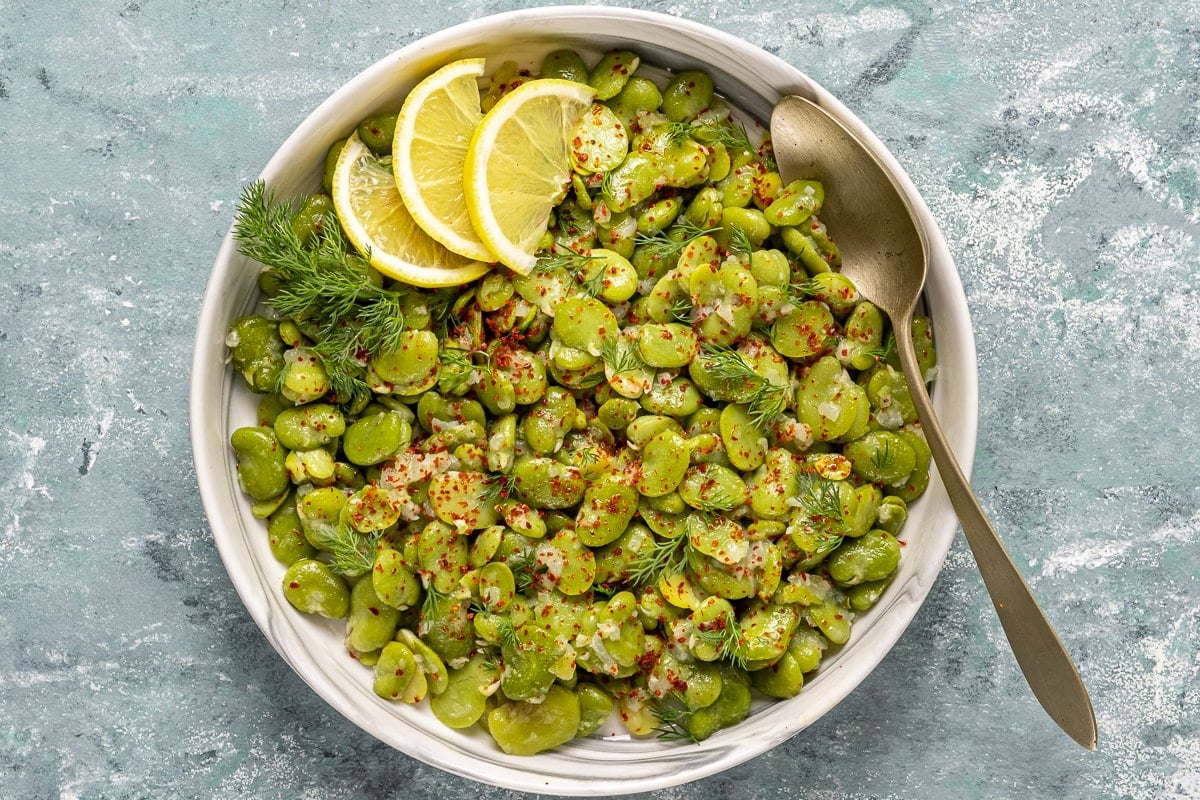 Frequently Asked Questions
Can you eat the shell of fava beans?
The shell of fava beans is edible and actually quite delicious. We'd only recommend eating the shells of younger and smaller fava beans as the larger beans have that tough skin. We even have a recipe using young fresh fava beans with their shells on Fresh Fava Beans Recipe.
What do fava beans taste like?
Fava beans have a very similar texture and flavor to lima beans (butter beans). Fava beans however are much more flavorful!
They have distinct nutty and earthy flavors with subtle hints of sweetness. Some beans also have a slightly bitter taste to them (usually the larger beans) and some even say they can taste the cheese.
Are canned fava beans peeled?
Almost all frozen and canned fava beans come pre-peeled. It makes it much more convenient for you to use and save a lot of time. Make sure to rinse the shelled fava beans before using them in any recipe.
Can you freeze raw fava beans?
It is best to rinse and blanch them before freezing them. Make sure to pat dry the blanched beans before placing them in an airtight container and freezing them for up to 12 months.
You can freeze raw beans, but we wouldn't recommend it as the texture will completely change and the tough skin will be much harder to remove later!
Print
📖 Recipe
How To Cook Fresh Fava Beans
Shelled fava beans cooked in the simplest way with olive oil, onion and garlic.
Author:
Prep Time:

10 minutes

Cook Time:

20 minutes

Total Time:

30 minutes

Yield:

4

1

x
Category:

Side Dish

Method:

Cooking

Cuisine:

Turkish

Diet:

Vegetarian
2

lbs(1 kilo) fava beans with their pod

3 tablespoon

olive oil

1

medium size onion, finely chopped

2

cloves garlic, finely chopped

½ teaspoon

salt

½ teaspoon

sugar

1 cup

water

¼ cup

fresh dill, chopped
Optional Garnish:
Red pepper flakes

Fresh dill

Lemon
Instructions
Remove the fava beans from their pods.

Make a small slit on each bean.

Fill a saucepan with boiling water. Add in salt and stir.

Soak the beans in this hot salty water for about 10 minutes. Then peel their shells.

Heat olive oil in a pan and cook onions and garlic until translucent.

Add in shelled fava beans and cook for about 5 minutes.

Add in salt, sugar and water. Cook over medium low heat until tender, for about 20 minutes.

Remove from the heat and let it cool a bit. Then add in chopped fresh dill and give it a good stir.

Serve with red pepper flakes, fresh dill and lemon slices.
Notes
You will have about 300g(10.5ounces) beans from 2lbs fava bean pods.
You can add extra olive oil and lemon juice when serving.
Nutrition
Calories:

361

Sugar:

6g

Sodium:

304.5mg

Fat:

11.7g

Carbohydrates:

47.3g

Protein:

20g

Cholesterol:

0mg
Keywords: fava beans, shelled fava beans, fresh fava beans, cooking fava beans, how to cook fava beans
#Shell #Cook #Fava #Beans #Recipe #ideas #included