Bulgur, also known as bulgar wheat, is an amazing ingredient that you can use to make a wide variety of dishes. This new whole grain, which is a superfood, should take its place in your kitchen. If you haven't tried it yet, now is the time! We are sharing the best recipes with bulgur wheat from Turkish cuisine.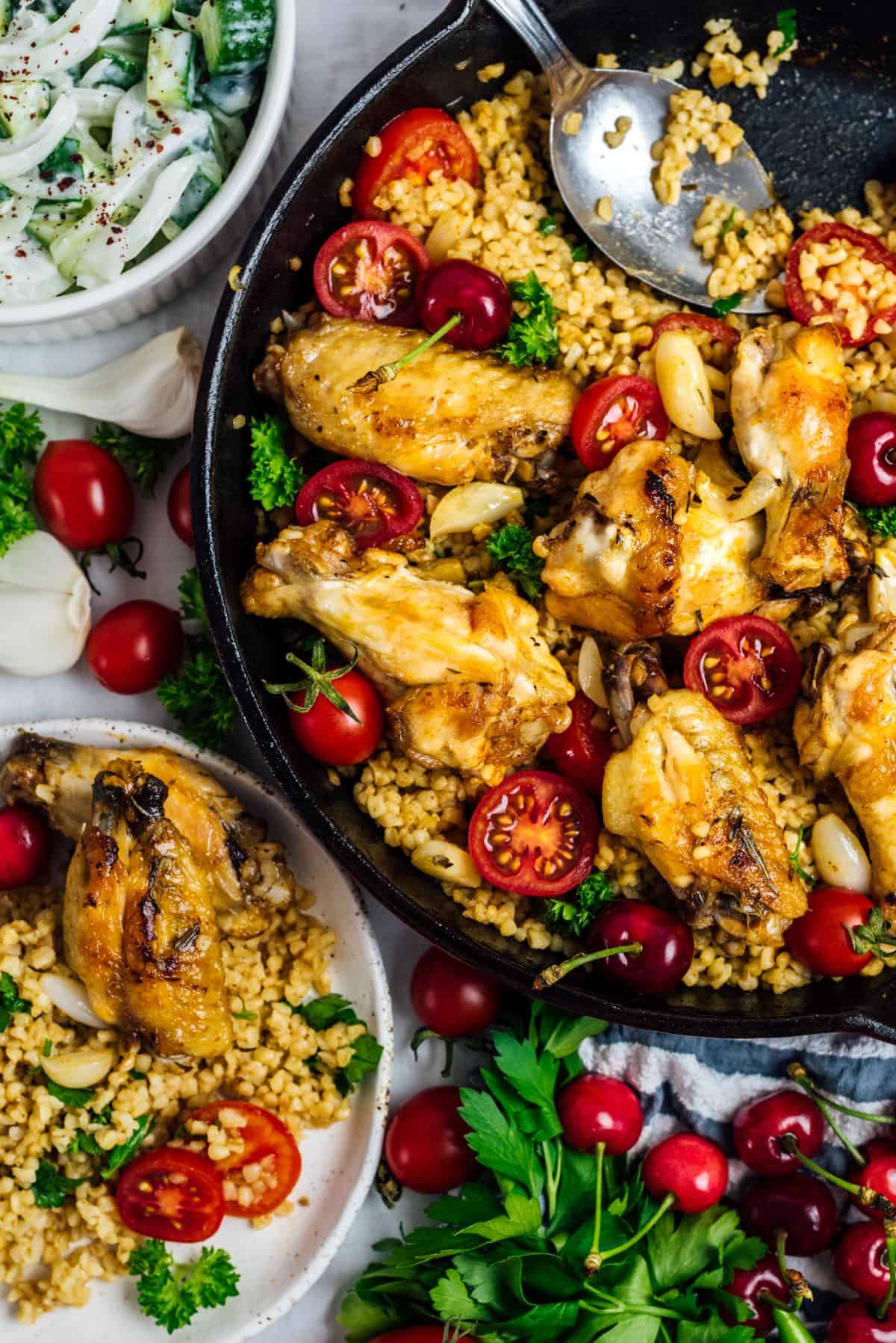 Bulgur is a staple food in Turkey. There are hundreds of Turkish recipes using bulgur wheat, all of which are scrumptious. We've rounded up our favorites in the list below. From breakfast foods to snacks or dinner ideas, there is something for everyone. 
Before moving on the list, you might want to learn what bulgur wheat is and how to cook it easily. Although they look similar, don't confuse bulgur wheat with cracked wheat or wheat berries. It is way quicker to make recipes with bulgur wheat as it is a parboiled grain. 
Bulgur Wheat Recipes To Try
Here is a list of Turkish recipes with bulgur wheat. From appetizers or snacks to dinner ideas, they are all unique and satisfying for your taste buds.
Tomato bulgur pilaf is the most popular coarse bulgur recipe in Turkey. You can use medium or very coarse bulgur wheat too, changing the bulgur and water ratio. But fine bulgur is never used for pilaf. 
It is as common as orzo rice pilaf in the country. Bulgur pilaf is served as a side dish paired with several meat dishes and chicken dishes. 
Also, it is very traditional to serve bulgar wheat pilaf with Turkish bean stew kurufasulye or classic meatballs in the same bowl. 
This bulgur wheat pilaf recipe is so versatile that you can make additions to it and turn it to a satisfying meal on its own. Some additions could be lamb, beef, chicken or any vegetable or legumes you like. We sometimes make it with green lentils or chickpeas and enjoy it for lunch with shepherd salad or yogurt cucumber cacik on the side. 
If you have never tried bulgur wheat recipes before, our bulgur pilaf recipe is a great start for you!
Kısır or Turkish style bulgur salad is one of the most popular fine bulgur recipes. You can't think of a potluck party in Turkey without a large bowl of kisir. It is like the cousin of Middle Eastern tabbouleh.
Kısır is loaded with fresh herbs like dill, parsley, mint, green onions, lettuce leaves and cucumber. Plus, we use several spices, tomato paste, lots of olive oil, lemon juice and pomegranate molasses in this bulgur salad. All these flavors come together in a bowl to stimulate your taste buds.
Not all types of bulgur can be used for this easy bulgur recipe. The color doesn't matter, use yellow or red bulgur. On the other hand, the size of bulgur does matter. It has to be fine bulgur because bulgur is not cooked over the stove for this recipe, it is "cooked" with the soaking method.  
We always make a big batch of bulgur salad to have leftovers. It tastes even more delicious the next day, so we put some of the leftovers in our son's lunch box and enjoy the rest for lunch. Sometimes we use it as a topping on Turkish style baked potatoes called kumpir too.
If you want to try bulgur in vegan recipes, our Turkish kisir recipe is perfect for you! Also, see our wheat berry salad too!
We use bulgur in several vegan recipes. This is just one of them. Bulgur Lentil Meatballs are one of the most famous finger foods in Turkey. Everyone LOVES them! We have never seen a kid who refuses these lentil and bulgur patties. What's more, 
For these vegan "meatballs", red lentils are cooked and then combined with fine bulgur and a spicy olive oil sauce. Herbs and lemon juice are added in this mixture and then you shape them into oval balls. The taste is incredible and the recipe is a crowd pleaser!
This is one of those healthy bulgur recipes that is super tasty. Bulgur lentil patties are served with lettuce leaves, sumac onions, pickles and lemon wedges on the side. Your lunch/dinner turns into a festive meal with all these. It is really hard to stop once you taste them.
To learn how to make these vegan lentil and bulgur balls, check out our bulgur and lentil balls recipe!
Cig kofte or chee kofta is a spicy bulgur wheat recipe. It is a special dish from the Southeastern region of Turkey. Traditionally it was made with a combination of fine bulgur, spices (hot Urfa biber or isot) and raw meat. But it has become a very popular street food around the country and raw meat is not included in the recipe today. Locals still make it with meat though.
In addition to street vendors, you can find cigkofte at kebab restaurants too. It is served as an appetizer or meze. The best way to eat it is either on lettuce leaves or wrapped in lavash bread. 
Fine bulgur is kneaded with spices, onion and garlic, tomato paste and a little water. Then oil, spices, pomegranate molasses and lemon juice are added into the bulgur mixture. After this step, you should have strong arms as this mixture needs to be kneaded until bulgur wheat is soft, about 50 minutes. Bulgur gets "cooked" with this kneading method.
Okay, let's admit this. Çiğkofte is not one of those easy bulgur wheat recipes. But it is definitely worth the effort. 
If you want to give it a try, you can check out our cigkofte recipe! 
Nothing could be better than a bowl of a comforting soup loaded with flavors when it is cold outside. This bulgur soup recipe is a perfect option when you want an easy to make dish with simple ingredients.
It is one of our favorite wheat bulgur recipes that can be served as a meal on its own. Bulgur and lentils are combined with tomato paste and spices like chili powder and dried mint in a soup pot. And as a result, you will have one of the yummiest soups in your life! So simple, yet super tasty!
It is such a versatile soup recipe that you can make your own additions to it. For example you can add chicken or beef if you want to have more protein to your soup. Also, vegetables like carrots, spinach or leeks would be nice additions too.
If you are a soup person, you should definitely give our bulgur soup recipe a try!
Looking for complete dinner recipes with bulgur wheat? We got you covered! This chicken and bulgur makes a perfect dinner that all the family members love. 
Chicken wings are fried in a cast iron pan and transferred onto a plate. Then bulgur is cooked in the same pan and combined with the chicken wings. All in the same pan with an order. Garnish with some fresh herbs and tomatoes right before serving.
This is one of our classics. We can't recommend it enough! We love to pair it with an easy creamy cucumber salad or Turkish cacik.
If you are after an easy family dinner recipe with bulgur wheat, check out our chicken wings with bulgur recipe now! It will definitely become one of your ultimate weeknight dinner recipes.
Okay, this is not one of the classic bulgur wheat recipes in Turkey. Breakfast bowls are not even a thing in Turkish cuisine. But as a couple who love trying new foods and methods in the kitchen, we sometimes have musli, oatmeal or quinoa breakfast bowls. 
So we wanted to make a twist on classic breakfast bowl recipes and decided to use bulgur wheat as a substitute for oatmeal and quinoa. The result was so good! Creamy, nutty, chewy and loaded with fall flavors, these warm breakfast bowls are perfect for chilly mornings.
Bulgur has to become more popular in breakfast bowls. So if you are a person who loves starting the day with a bowl of goodness, go check out our bulgur breakfast bowls recipe!
Boza is a unique bulgur wheat recipe. It is a sweet drink made with the fermentation of bulgur and yeast. It has a texture of smoothie or pudding. Just like traditional salep, boza is a drink you can find during fall and winter. 
Boza is traditionally sold by street vendors. They walk around the city with a huge jug-like container and people buy boza from them. There are also local boza shops that are selling boza in water glasses, topped with lots of cinnamon and roasted chickpeas. 
So people in Turkey mostly prefer buying it from street vendors or local shops. But still if you don't have a chance of buying it, you can learn how to make Turkish boza at home.
#Turkish #Recipes #Bulgur #Wheat